Africa is one of the original areas of the park. Set in the fictional east African port village of Harambe, this area contains several animal exhibits.[24] Some snippets from Africa that were duplicated by the Disney Imagineers are a fortress that was found in Zanzibar and a water-stained crumbling old building that was found in Kenya. Harambe includes a "hotel," restaurants, an outdoor bar that has live entertainment, and different marketplaces.
Sign for the fictional African port of Harambe in Disney World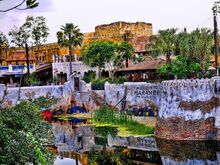 The village is the namesake of the Harambe Wildlife Preserve, the fictional home of Africa's main attraction, Kilimanjaro Safaris. Guests climb aboard an open-sided safari vehicle for an expedition to see African species in savanna, rivers and rocky hills. The safari features spotted hyenas, wild dogs, cattle, rhino, giraffes, lions, cheetahs, African elephants, zebras, wildebeest, buffaloes, nile crocodiles, ostriches, several species of antelopes, birds, and flamingos.
On the adjacent Gorilla Falls Exploration Trail, visitors trek into the forest where animals such as black-and-white colobus monkeys, gerenuks, gorillas, hippos, Kenyan sand boas, kori bustards, meerkats, naked mole-rats, okapis, tarantulas, and yellow-backed duikers, as well as an aviary, are located.
On the western side of Africa is the Harambe Theater, which is home to the Festival of the Lion King, a stage attraction based on Disney's 1994 film, The Lion King.