The Astro Orbiter is a rocket-spinner attraction at Magic Kingdom at the Walt Disney World Resort in Florida. It opened in 1974 as the StarJets, an attraction similar to the Rocket Jets at Disneyland. In 1994, when the New Tomorrowland opened, it was overhauled and renamed. The attraction is known as a "spinner," in which vehicles are lifted into the air by large arms coming out of a spinning central core. It is located at the top of Rockettower Plaza, where Tomorrowland Transit Authority's station and the Lunching Pad are located as well. This ride is like the Dumbo the Flying Elephant at Fantasyland. You rise several feet in the air in an open rocket ship.
Summary
Maneuver a rocket-like spacecraft into the farthest reaches of space and back. As the newest star pilot to join the fleet, the time has come for you to take to the sky. Board an elevator with fellow cadets and ascend to a loading platform for your spaceflight to begin.
After receiving authorization from Ground Control, make your way to a gleaming 2-passenger spaceship of your choice and prepare for launch. Then, hold on tight as your spacecraft levitates and begins a series of rapid revolutions around a galaxy of planets, as the sights and sounds of Tomorrowland whizz by in the distance below.
As you take control of your very own rocket, you are in command of your flight. Control how high you fly by pulling or pushing the lever inside the ship.
History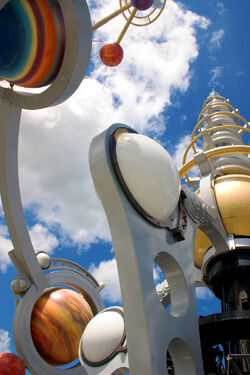 No form of the attraction existed in the Magic Kingdom at Walt Disney World until 1974, three years after the park's opening, when Tomorrowland underwent a massive expansion including the creation of the first Space Mountain, a new location for the Disneyland-attraction the Carousel of Progress, a new WEDWay Peoplemover, and of course the Star Jets also opened.
This version of the attraction was based on the Disneyland version, in both location (on top of the Peoplemover platform) and in style (both feature a large Saturn rocket). However the attraction vehicles were different than any other previous form as they were much larger and featured a flatter back-end and larger tail fins. This form of the attraction lasted until the 1994 rehab.
In 1994, the Astro Orbiter opened when "The New Tomorrowland" premiered. The land was now a haven for retro-futurism with a 1920's view of the future. The attraction featured a highly stylized iron-work tower in lieu of the center rocket along with various planets on the outside of the attraction as to appear as if the rockets were weaving between the planets and guests feel as if they are going much faster than they actually are. The ride at the Magic Kingdom does 11 rotations per minute and averages 1.2 million miles a year.
| | |
| --- | --- |
| | This page uses Creative Commons Licensed content from the The Disney Wiki. The list of authors can be seen in the page revision history (view authors). As with the Disney Parks Wiki, the text of The Disney Wiki is available under the GNU Free Documentation License. |