Jurassic World: Dominion Dominates Fandom Wikis - The Loop
Play Sound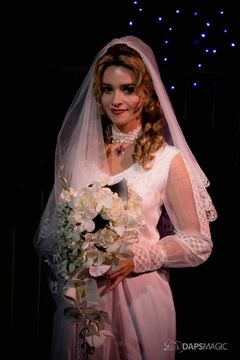 Constance Hatchaway is the "Black Widow Bride" of the Magic Kingdom's and Disneyland Park's Haunted Mansion. She started off by marrying a farmer's son and was given a single set of pearls which she wore with her wedding dress. With each new husband, she gains a new necklace and her mouth goes from a frown to a sinister smile, as each husband is wealthier than the last. The gifts she receives get more extravagant with each husband she marries as she climbs up the social ladder. She wears the same dress in each picture.
Things to look for: One of the gifts she received with Frank Banks is a cabinet. In it, there is a woman figure looking down at a man figure who has fallen and lost his head. George Hightower's grave can be seen in the stretching room as well as a woman sitting on it holding a rose. Constance is holding a rose in the last picture in the attic. There is also a hat rack that holds the hats of Constance's dead husbands.
The last thing guests see before exiting the attic is the ghost of Constance. Between her wedding vows a hatchet appears in her hands. She recites her vows in an ominous, sinister tone:
Here comes the bride..., As long as we both shall live..., For better or for...worse, (chuckle) I do. I did, In sickness and in...wealth, You may now kiss the bride, We'll live happily ever...after, Till death...do us part...
The dictionary term for the hatch is to devise, create, or concoct a scheme. Hatch is also included in the word hatchet.
Gallery
Grooms
in order