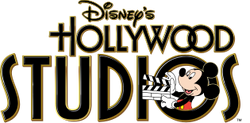 Disney's Hollywood Studios, formerly known as Disney-MGM Studios, is a theme park in the Walt Disney World Resort in Orlando, Florida, USA. It opened on May 1, 1989. 135 acres (546,000 m²) in size, the park's theme is Hollywood classic movies and popular TV entertainment.
The only affiliation that Metro-Goldwyn-Mayer (MGM), now under the ownership of Sony, had to the Disney park was via contracts which allowed Disney to use the MGM name and lion logo in marketing, and separate contracts that allowed for specific MGM content to be used in a ride called The Great Movie Ride. However, rights for the entire pre-1976 MGM library were purchased by Ted Turner to create Turner Network Television and later, Turner Classic Movies, which in turn has become part of Time Warner. Therefore, the end of the MGM affiliation has not affected the content of The Great Movie Ride. As of January 7, 2008, the park was rebranded "Disney's Hollywood Studios" with the official announcement made on August 9, 2007 by Disney officials.
Dedication
The World you have entered was created by The Walt Disney Company and is dedicated to Hollywood—not a place on a map, but a state of mind that exists wherever people dream and wonder and imagine, a place where illusion and reality are fused by technological magic. We welcome you to a Hollywood that never was—and always will be. - Michael D. Eisner, May 1, 1989
List of rides and attractions
Disney Junior - Live on Stage!
Beauty and the Beast Live on Stage
Attraction and entertainment history
Hollywood Boulevard
Hollywood Boulevard is lined with shops selling Disney merchandise and food. This is also the location of the "Disney Stars and Motor Cars Parade." While parades are a major attraction today, the area was not originally built to handle parades, and an appropriate sound system and other facilities had to be retrofitted after initial construction. Michael Eisner, who had a major part in the park's creation ever since the earliest development, demanded the opening land operate on the same principle as Main Street, U.S.A. — a street lined with shops and food, but in a style more fitting to the Studios.
The Great Movie Ride, a dark ride paying homage to several classic films is located at the end of Hollywood Boulevard.
Beauty and the Beast Live on Stage, appeared on Hollywood Boulevard until the Theater of the Stars moved to Sunset Boulevard in 1994.
High School Musical 2: Schools Out, Join dancers, cheerleaders, basketball players from the Wildcats, and learn the songs and dance to the beat of Disney Channel's hit film, High School Musical.
Echo Lake
Indiana Jones Epic Stunt Spectacular!, a live-action performance showing how movie stunts are done. The show re-enacts various scenes from the movie Raiders of the Lost Ark.
Sounds Dangerous, a show following Drew Carey through a day as an undercover detective when his video camera fails and the audience is left in the dark wearing earphones, following his adventure through sound cues.
Streets of America
Mickey Avenue
Studio Backlot Tour, showing how movie special effects are done. Guests see a movie scene set on the Special Effects Water Tank filmed using volunteers from the audience and various special effects. The audience sees this final sequence edited all together in an action sequence called 'Harbor Attack'. After that, guests board tour shuttles and are taken through Catastrophe Canyon, to see fire and water effects, are driven past large-scale movie props, and are shown Creative Costuming department along with lighting and grip and the carpentry shop.
Walt Disney: One Man's Dream, a museum-like walkthrough attraction that explores the life of Walt Disney and his legacy through photos, models, rare artifacts and a short biographical film narrated by Julie Andrews.
Journey Into Narnia: Prince Caspian, a walk-through interactive attraction featuring props from the movie and an appearance from the White Witch.
Pixar Place
Animation Courtyard
Voyage of The Little Mermaid, a live performance using puppets, lasers, movies, human actors, and water (mist). The show recreates the animated Little Mermaid movie, in an abbreviated form.
The Magic of Disney Animation, a short presentation showing how animated films are made. In side the Animation Academy you can take a drawing class from one of the Disney Artists and learn to draw a classic character, like Mickey, Donald, Goofy, Pluto, Winnie the Pooh and also Stitch.
Playhouse Disney Live on Stage!, a live performance featuring Disney children's television characters.
Sunset Boulevard
Beauty and the Beast Live on Stage, a simplified version of the film.
Rock 'n' Roller Coaster Starring Aerosmith, an indoor roller coaster in the dark with three inversions and a high-speed launch
The Twilight Zone Tower of Terror, a thrill ride which drops guests in an elevator in a randomized set of 4 sequences each involving multiple high speed drops and ascents. In addition, special effects including smell, lighting and sound enhance the thrill.
Entertainment
Theater of the Stars
The theater is also used for occasional corporate, seasonal, promotional and internal events and presentations.
Inside the Magic: Special Effects & Production Tour
ABC Theater Right
ABC Theater Left
The Monster Sound Show (May 1989 – August 1996)
ABC Sound Studio (September 1997 – 1999)
Animation Courtyard Theater
Backlot Theater
Beauty and the Beast Live on Stage (1993 - 1994) "on a temporary basis whilst Theatre of the Stars was being constructed"
The Spirit of Pocahontas (June 23, 1995 – February 24, 1996)
The Hunchback of Notre Dame – A Musical Adventure (June 21, 1996 – September 28, 2002)
Currently unused with construction readying for a yet un-announced attraction . (January 2008 - Present)
Soundstage Theater
Walt Disney Theatre
Fireworks
Sorcery in the Sky. The show debuted in 1990 when Fantasia celebrated its 50th anniversary, and provided entertainment for night guests. The show was canceled in 1998 and Soon It will reopens on Walt Disney World's 50th Anniversary, and its not a replacement was not Fantasmic!, debuting later that same year. Fantasmic! drew record amounts of guests to the park, making a return of the fireworks display unlikely. While Sorcery in the Sky is no longer performed, a Hollywood themed fireworks show is still presented on occasion during corporate functions, and special evenings such as New Years Eve and Independence Day.
Lights, Camera, Happy New Year! - This show debuted in 2004 as the New Years Eve Firework display for the Disney's Hollywood Studios . While the display is very similar to the Independence Day firework show (Official name unknown) it carries a less patriotic theme to the pop music & movie theme selection.
Parades
Others
Events Hosted at Disney Hollywood Studios
ESPN: The Weekend (Late February or Early March; discontinued as of 2012)
Grad Nite (Starting in April 2009)
Star Wars Weekends (June)
Night of Joy (September as of 2008)
ABC's Super Soap Weekend (November; discontinued as of 2008)
Logo Timeline
External links
| | |
| --- | --- |
| | This page uses Creative Commons Licensed content from the The Disney Wiki. The list of authors can be seen in the page revision history (view authors). As with the Disney Parks Wiki, the text of The Disney Wiki is available under the GNU Free Documentation License. |