Shanghai Disneyland Park

Opening Date

June 17, 2016

Resort

Shanghai Disney Resort

Location

Pudong, Shanghai

Country

China

Theme / Style

"Disneyland" / "Magic Kingdom" Style Park

Homepage

Operated By

The Walt Disney Company & Shanghai Shendi Group
Shanghai Disneyland Park is a theme park located in Pudong, Shanghai as part of the Shanghai Disney Resort. The park opened June 17, 2016. The park was the second Disney theme park to open in China after Hong Kong Disneyland, and is owned and operated through a joint venture between The Walt Disney Company and the Shanghai Shendi Group. Construction began on April 8, 2011.[1]
Park Layout
Shanghai Disneyland Park is a new variation of traditional "Disneyland" style theme parks found all over the world and doesn't include many features found in most other "Disneyland" Parks. Departing from Disney's traditional "hub & spoke" design, the park doesn't include a conventional hub area, nor does it include a railroad attraction circling the park due to the negative connotations of the Chinese immigrants who died building the First Transcontinental Railroad, as well as possibly China's strict emission laws. As a replacement for a "hub", the center of the park instead features an 11-acre collection of gardens. For the first time in Disney parks history, the park's carousel and Dumbo attractions are located in front of the park's castle instead of behind. Unlike other Disneyland style parks, the park includes neither a "Frontierland" nor a "Main Street U.S.A." area, to avoid having too many American elements due to the tense political relationship between the United States and China. On opening day, the park featured feature 7 themed areas: Mickey Avenue, Fantasyland, Garden of Imagination, Tomorrowland, Treasure Cove, & Adventure Isle. Toy Story Land was later added in 2018.
Mickey Avenue
Instead of the traditional "Main Street U.S.A.", Shanghai Disneyland includes a new entrance area called Mickey Avenue, a collection of shops and restaurants themed to different eras of Disney's history. The Carthay Circle Theater, found at Disney California Adventure Park, is also an icon found in this area of the park. A variation of the 'Partners' statue, based on the statue found in the center of the hub at most other Disney Magic Kingdom-style parks is also included. The Statue will feature Walt Disney holding Mickey Mouse's hand with other Disney characters also being featured (including Minnie Mouse, Ariel, Flounder, Mushu, Pongo, Perdita, Baloo, Goofy, Dumbo, Timon, Pumbaa, and Bambi).
Attractions:
Restaurants:
Club 33
Mickey & Pals Market Cafe
Remy's Patisserie
Sweethearts Confectionery
Shops:
Fantasyland
The park features a new version of Fantasyland. The park's castle, called Enchanted Storybook Castle, represents all Disney Princesses and is the largest and most interactive of all six "Disneyland" style castles.[2] Shanghai's Fantasyland is divided into two sections with the traditional Fantasyland area being located behind the castle, and a new area called Garden of Imagination being located in front.
Fantasyland features a new version of Peter Pan's Flight as well as a copy of Seven Dwarfs Mine Train attraction that is found at Walt Disney World Resort. Instead of the traditional "Tea Cups" attraction, Shanghai's park includes the Hunny Pot Spin, a spinning ride inside large hunny pots based on Winnie the Pooh. The Many Adventures of Winnie The Pooh dark ride is also be included as well as an Alice in Wonderland themed maze similar to that of Disneyland Paris.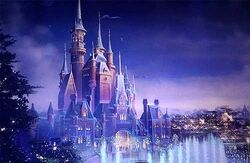 Attractions:
Alice in Wonderland Maze
Evergreen Playhouse (Play Area)
Hundred Acre Wood
Hunny Pot Spin
"Once Upon a Time" Adventure (Walk-Thru)
Peter Pan's Flight
Storybook Court (Character Meet & Greet Area)
Sword in the Stone (Show)
The Many Adventures of Winnie the Pooh
Restaurants:
Corner Market
Merlin's Magic Recipe
Royal Banquet Hall
Tangled Tree Tavern
Troubadour Treats
Shops:
Bibbidi Bobbidi Boutique
Castle Gifts
Hundred Acre Goods
Mountain Treasures
Gardens of Imagination
Gardens of Imagination is an 11-acre collection of gardens and attractions located at the center of the park, in front of the park's castle, and is a replacement for the traditional "hub" found at other Disney parks. This new area is themed to the twelve animals of the Chinese zodiac, featuring mosaic tile murals depicting various Disney characters.[3] A brand new unique attraction called Voyage To The Crystal Grotto is also included, that is a guided boat tour through the castle, and around Fantasyland. A Fantasia themed carousel attraction, as well as the classic Dumbo The Flying Elephant attraction found at other Disney parks also are included here.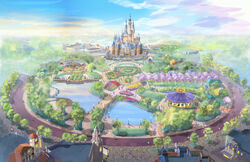 Attractions:
Fantasia Carousel
Voyage to the Crystal Grotto
Meet Mickey & Friends (Character Meet & Greet)
Storybook Castle Stage Spectacular (Show)
Melody Gardens
Garden of the Twelve Friends
Restaurants:
Chip & Dale's Treehouse Treats
Fairy Godmother's Cupboard
Picnic Basket
Pinocchio Village Kitchen
Timothy's Treats
Teahouse of the Wandering Moon
Shops:
Be Our Guest Boutique
Casey Jr. Trinket Train
Melody Time Gifts
Mickey & Minnie's Mercantile
Tomorrowland
The park also features a new version of Tomorrowland, with new variations of traditional Tomorrowland attractions. For at first time at any Disney park, Tomorrowland occupies the left side of the park instead of the right and features a new multi-level design, a first for any Disney park. Instead of a traditional Space Mountain, a new indoor roller coaster themed to the film TRON: Legacy is featured called Tron Lightcycles Power Run. Instead of a classic spinning rockets attraction, Shanghai's park includes a spinning Jet Packs ride. A new version of Disney's popular Buzz Lightyear dark ride also included called Buzz Lightyear Planet Rescue utilizing new technology different from that of the currently existing versions of the ride located at other Disney parks. Also included is a copy of Stitch Encounter, a popular live interactive show currently found at Hong Kong Disneyland, and Walt Disney Studios Park in Paris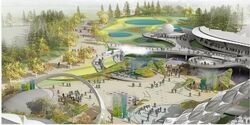 Attractions:
Arena E Stage (Show)
Buzz Lightyear Planet Rescue
Jet Packs
Stitch Encounter
TRON Lightcycle Power Run
Restaurants:
Spiral Snacks
Stargazer Grill
The Light Stuff
Shops:
Toy Story Land
Just like Walt Disney Studios in Paris, and Hong Kong Disneyland, Shanghai Disneyland features a "Toy Story Land". Unlike the two existing versions of this "land", it only features two rides, minus the "Toy Soldiers Parachute Drop" attraction found at the other parks.
Attractions:
Rex's Racers
Slinky Dog Spin
Woody's Roundup (Show)
Restaurants:
Celebration Cafe
Toy Box Cafe
Shops:
Treasure Cove
A brand new land not found at any other Disney park, Treasure Cove is themed to the "Pirates of the Caribbean" film franchise [4]. The land features a brand new unique version of the classic "Pirates of the Caribbean" attraction, called Pirates of the Caribbean: Battle for Sunken Treasure, utilizing brand new effects and technology not seen in any other version of the ride. Also featured is a new stunt show starring Captain Jack Sparrow, and a version of the classic guest-powered Explorer Canoes attraction found at other Disney parks.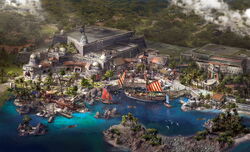 Attractions:
Pirates of the Caribbean: Battle for Sunken Treasure
Explorer Canoes
El Teatro Fandango (Show)
Stunt Theater (Show)
Restaurants:
Pintel & Rigetti's Grub to Grab
The Snackin' Kracken
Tortuga Treat
Shops:
Barbossa's Bounty
Doubloon Market
Adventure Isle
The park features an area similar to the "Adventurelands" found at other Disney parks, named Adventure Isle. Just like "Adventureland" at Disneyland Paris, "Adventure Isle" does not include a Jungle Cruise attraction, and instead features a dinosaur themed rapids attraction named Roaring Rapids, and Soaring Over The Horizon, a new version of the popular "Soarin' Over California" attractions featured at US Disney parks. Also included is an interactive play area called Camp Discovery Challenge Trail, similar to that of the "Redwood Creek Challenge Trail" found at Disney California Adventure.
Attractions:
Camp Discovery Challenge Trail
Roaring Rapids
Soaring Over the Horizon
Restaurants:
Piranha Bites
Tribal Table
Shops:
Adventure Supplies
Laughing Monkey Traders
Rainbow Frog Trinkets
Storehouse Stage
Hotels
Outside of the park, the Shanghai Disney Resort features two hotels. One hotel is the five-star Shanghai Disneyland Hotel and the other will be a Toy Story themed hotel. The Shanghai Disneyland hotel is located near the lake facing the park and utilizes an art nouveau style architectural design.
Trivia
Shanghai Disneyland features the largest castle of any Disney park.
Similar Parks
Gallery
References
External links
Community content is available under
CC-BY-SA
unless otherwise noted.